Toyota has officially started the nationwide U.S. sales rollout for its smallest car.
And we are talking small: Billed by Toyota as the "world's smallest four-seater" car, the Scion iQ is about 10 feet long.
That's only about a foot longer than the Smart ForTwo, a two-seater. But Toyota designed the iQ to be as wide as some compact cars to help make it feel more substantial on the road.
Scion is Toyota's youth-oriented entry division, and the target audience for the iQ will be young, urban drivers who care a lot about fitting into small parking spaces.Scion chief Jack Hollis announced that the iQ, talked about for some time, was finally going on sale last week. The announcement came at an event that actually was being held to celebrate the division's coming new sports car, the FR-S, co-developed with Subaru.
The nationwide rollout beyond the West Coast in early 2012 will include dealers in the Southwest and Southeast, followed by New York.
The Midwest, Rocky Mountain states and the rest of the East Coast will follow by March, Toyota says.
The iQ has been on sale for a while in Japan and other world markets.
Toyota first introduced the idea of bringing the car to the U.S. as a Scion model at a time when the Smart ForTwo, the microcar from Mercedes-Benz parent Daimler, was a hit.
These days, Smart sales are ebbing, and it remains to be seen whether large numbers of Americans are ready to embrace the smallest of cars.
Also working against the iQ microcar's sales expectations is its price: starting at $15,995 plus shipping. That's higher than many subcompacts and even some compacts.
But Toyota is marketing the car as driving bigger than it is — that is, being just as quiet, smooth and easy to handle as those larger cars, despite its tiny size.
The iQ is powered by a peppy 1.3-liter, 96-horsepower engine that's good for a top speed of 100 miles an hour and uses a continuously variable automatic transmission.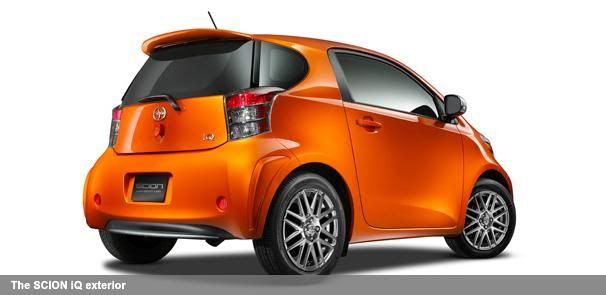 Read more: http://www.azcentral.com/business/consumer/articles/2011/12/06/20111206toyota-starts-selling-worlds-smallest-four-seater.html#ixzz1fm2Lhmml
Source:
azcentral.com